So not only am I participating in a dare for this month's teamTEENauthor blog, but I've also got a link to a really awesome, really big contest you're going to want to know about. It's also a scavenger hunt. Find out all about it
here
.
Now for the dare. This month, the Perfect 10 teen panel came up with 3 options for the authors to choose from for the October 2012 Dare Day:
1. Cover your face with peanut butter and take a picture
2. Write your most embarrassing moment from your teen years, Shakespearean style
3. Post pictures and other links all about your celebrity teen heartthrob crush from middle school/high school. Your own Justin Beiber so to speak.
My choice this month is number 3. And the answer is Tom Hansen from 21 Jump Street as portrayed by the ethereal wonderfulness of Johnny Depp.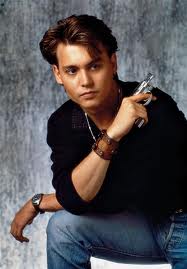 And here is video proof of why this was a perfectly valid crush to have:
link
. Not only did I have a crush on this character, but I had a crush on the entire show. The idea of young undercover cops infiltrating local high schools? Yowza. I think I would like to write a couple of books with that premise even now. So yeah, I still might be carrying this crush a little, all the way from middle school.
(And before you ask, no I haven't seen the movie. This show was craptastically awesome, and I would prefer to keep it that way in my memory)
And check out these dares from the other teamTEENauthors: